EasyExhaust™ Wet Scrubber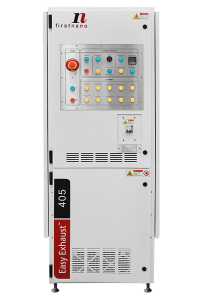 The EasyExhaust™ Wet Scrubber removes particles from the exhaust stream, reacts moisture- and air-sensitive exhaust byproducts with water and oxygen in a controlled way, and cools the exhaust gases prior to exiting the system. An optional pH monitoring system can neutralize acidic scrubbing liquid.
The FirstNano® branded gas abatement systems provide proper safety to plant and personnel in the handling of hazardous gases. We have taken extensive measures to provide fail-safe designs and combine them with forward thinking features in an effort to offer a safe, versatile product for specialty gas exhaust requirements.
Water spray packed tower
Water recirculation system to conserve water usage
pH monitoring (optional)
Automatic pH neutralization of the recirculating fluid using sodium hydroxide (optional)
Toxic and corrosive exhaust gasses / vapors, including:
Boron Bromide (BBr3
Boron Trichloride (BCl3)
Chlorine (Cl2)
Fluorine (F2)
Hydrogen Sulfide (H2S)
Dihydrogen Selenide (H2Se)
Hydrogen Bromide (HBr)
Hydrogen Chloride (HCl)
Hydrogen Flouride (HF)
Ammonia (NH3)
Phosphoryl Chloride (POCl3)
| | | | | |
| --- | --- | --- | --- | --- |
| Electrical* |  208 VAC |  60 Hz |  L1, L2, L3, N, G |  20 Amps |
| Dimensions |  29" Length |  29" Width |  75" Height | |
| Water |  1 GPM |  20 - 40 PSIG | | |
| Water Drain | Gravity drain | | | |
| Condition Gas Exhaust |  50 SCFM |  1" WC | | |
| Cabinet Exhaust | 200 SCFM |  1" WC | | |
*Note:
Electrical varies with Country | Facility requirements vary with system options | Consult factory for details