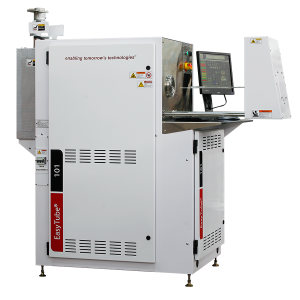 The EasyTube® 101 CVD system offers up to eight (8) input lines for gases. Three (3) of the input lines can be configured for solid or liquid sources. Heating is provided by a resistance furnace. The system can be configured for both vacuum and atmospheric processes. The 40 mm (ID) process tube has a usable processing area of 25 x 50 mm and most system options are field upgradable.
Designed to meet today's stringent safety standards, the system safely processes pyrophoric, corrosive, flammable and toxic gases such as hydrogen, silane, germane, diborane, hydrogen chloride, and metal organic precursors. The system also has application configured safety protocols imbedded into relay logic, PLC and CVDWinPrC™ software.
Our entry level EasyTube® 101 is a low cost, small footprint, reliable and repeatable CVD system for the advanced R&D user. It is the product of choice for the researcher that has a limited budget and needs turn-key equipment with a baseline process recipe and a proven safety system.
CVDWinPrC™ system control software for real time process control, data logging, and recipe editing
Preprogrammed process recipes
Three (3) zone resistance furnace for temperatures up to 1100 °C
Atmospheric process operation
Proprietary real-time cascade temperature control
Cantilevered automatic substrate loading/unloading system
Quartz process tube (40 mm ID), sample holder, and gas injectors
Dual o-ring process seals with a vacuum monitoring system to insure leak free operation
Four (4) mass flow controlled UHP gas lines
User settable warnings and alarms
Application configured safety systems
Comprehensive software and hardware safety interlocks
One (1) year warranty
SEMI - S2/S8 and CE compliant
Up to an additional four (4) mass flow controlled UHP gas lines
Purge/reactant: inert gas purge for reactive gas lines
Atmospheric or low pressure liquid/solid source vapor delivery - maximum of three (3)
Liquid/solid source vapor delivery kit
Run/vent: stabilizes gas flows (bypassing the process tube) before flowing into process tube
Air pump for air feed into system for removing carbon build up on process tube
Low pressure and atmospheric operation
20 CFM oil based vacuum pump
Fomblin oil based vacuum pump
50 CFM dry mechanical screw pump
Imperial (inch) tool kit
Seismic mounts
Wheels to allow easy movement of system into your laboratory
Onsite system start-up and training
EasyGas™ hazardous gas cabinets
EasyPanel™ UHP gas panels for argon, nitrogen, helium, oxygen
EasyExhaust™ exhaust gas conditioning system (scrubber/pyrolyzer)
Other options available on request, please contact Factory for details
Electrical*
208 VAC
60 Hz
L1, L2, L3, N, G
 20 - 30 AMPS
Dimensions*
49" Length
40" Width
60" Height
800 - 1100 lbs
Cabinet Exhaust*
300 SCFM
 1" WC
Facility Nitrogen*
5 SLM
20 PSIG
Pneumatic Supply
1 SCFM
80 PSIG
 Clean DRY Air or N
 2
Process Gases
Customer specified
*Note:
Electrical varies with country | Facilities requirements vary with system options | Consult Factory for details